We love Dialog.
With intelligent automation, we push the work of dialog and community specialists towards a new efficiency level.
Start Demo
We develop the best AI-Tools for Dialog Managers and Community Builders
2016
First moderation AI models for WELT and Bild are developed and used.
conversario Facebook is launched and is first used by FAZ and ntv. By the end of 2017, more than 10 customers are already using conversario.
2017
2018
The development for conversario Coral + as an AI-assisted commenting tool for onsite and apps starts.
conversario Social is being expanded with the connection of the YouTube and Instagram channels.
2019
2020
conversario Social expands and focuses on dialogue management and community building.
More than 60 publishers and media houses use conversario.
2021
2022
Conversario supports LinkedIn and starts developing its own engagement platform engagently. New publishing customers use conversario in Austria and Switzerland.
conversario supports TikTok and extends its community functions with the social platform engagently.
2023
Increasing efficiency in Dialog Management and sustainable Community Building
AI-Solutions

from Bernau near Berlin
We do not believe in one solution for the many different requirements that are placed on our customers. Therefore, it is important for us to work out a suitable and individual variant together with all stakeholders. The conditions and needs of the task area and its employees set the pace.
We believe that better digital communities are possible.
We know that there is a need for secure, high-quality online conversations. In liberal societies, fair dialog and constructive discourse represent an important asset. We think that providing and maintaining places of exchange should not be left to the big social networks alone. Decentralized and moderatable engagement platforms are of great benefit to both users and operators. ferret go GmbH has been building on this vision since 2015.
100% Fokus

auf die Bedürfnisse der Dialog- und Community-Spezialisten

As soon as all desired channels are linked to the conversario platform, the AI modules can start their work. Conversario offers full transparency and authority to act. Intuitive design, advanced context functions and coordinated collaboration workflows enable dialogue and community management at the highest level.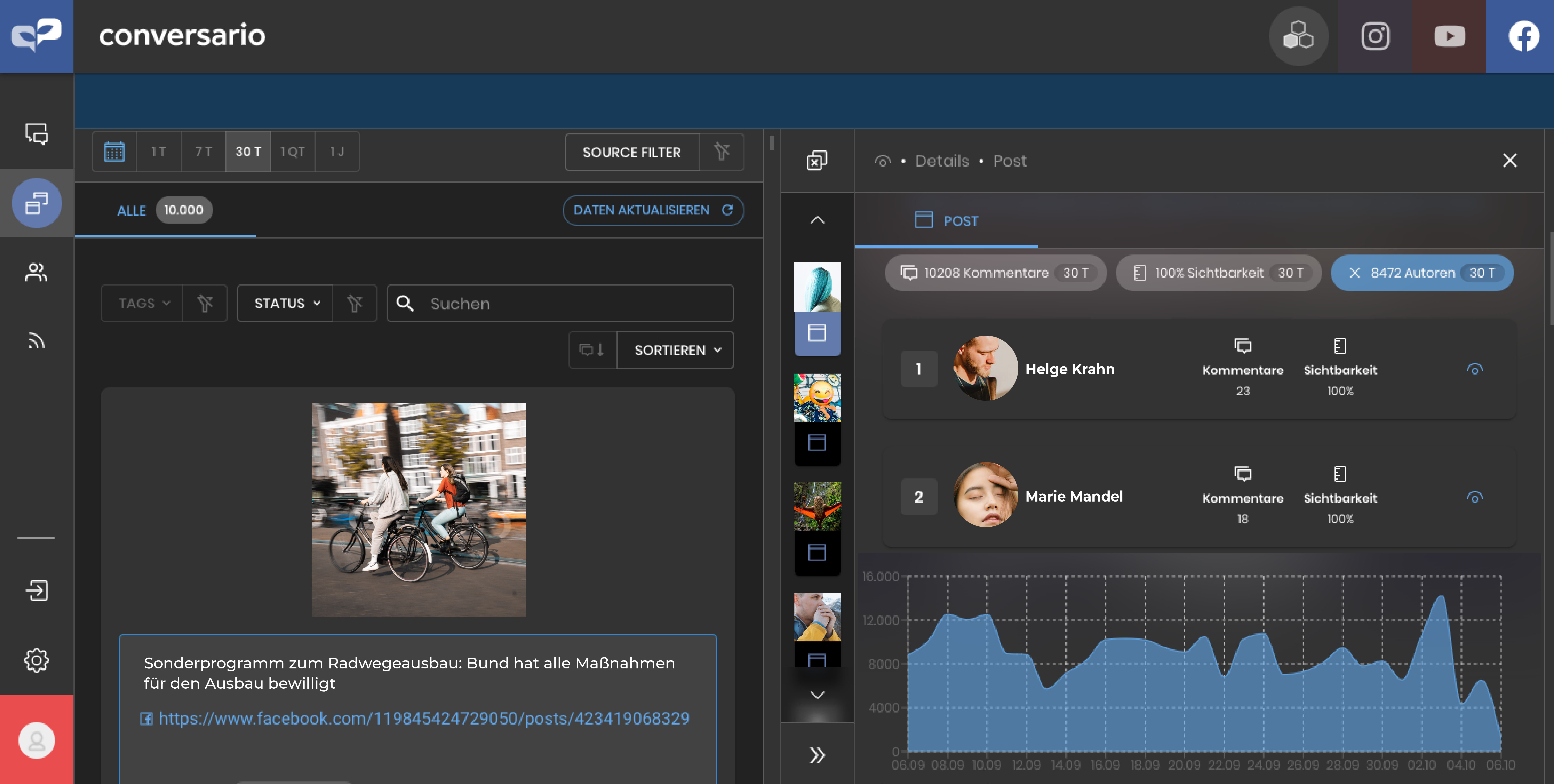 sustainable quality improvement thanks to learning system and modular architecture
optimised user experience thanks to intuitive design
dialogue and community management at the highest level thanks to extended context functions and coordinated collaboration workflows
more overview and great time savings thanks to uniform and cross-platform backend
Modular
assistive Intelligenz

für nachhaltiges Dialog-Management und Community Building

Modular assistive intelligence for sustainable Dialogue Management and Community Building

Assistive intelligence helps by successively automating well-defined processes in dialogue and community management of any type and scope. Through the use of specialised AI, the complexity, data volumes and time pressure for the dialogue and community teams become manageable again.

To ensure consistently high processing quality, several AI modules specialised in different tasks are integrated and coordinated in conversario. It particularly focuses on the community building aspects of moderation and interaction.

The goal is to record the initial engagement of users, to prolong it and to transfer it into a stable community relationship. The success of community building can be measured directly by the community KPI. At the same time, the impact of each individual user-community interaction can be seen in these key figures.

In this way, not only the community and dialogue management team learns, but the conversario AI modules also save best practices in real time and make them permanent.

For us, it goes without saying that the individuality of each community must be taken into account. The conversario AI modules therefore offer extensive adaptation functions that fine-tune the extent and intensity of the automation.